The Government of King James IV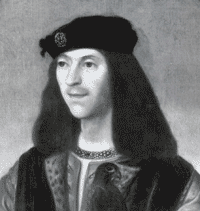 James travelled the country enforcing the rule of law and making his administration of justice visible to the people. Formal procedures were carried out to implement the king's orders or to pass a new law or act of parliament. Instructions were written down and passed on to various officials for action. Many of these documents survive, some of which still have his royal seal attached. They provide evidence of how James IV ran the county during his reign.
Scottish monarchs used different seals at different times as part of their system of government. Originally, the king's Great Seal was a personal seal used to authenticate documents issued by him. It was kept by the Chancellor who, as head of the Chancery, was responsible for it wherever the king went. It was used to issue royal charters many of which granted lands to noblemen or the church as a reward for loyal service. In time, it was replaced by the smaller Privy Seal that was looked after by different officials and the Great Seal no longer travelled with the king. The Privy Seal was used to grant smaller gifts of land or property, to grant appointments to minor offices in central or local government or to award licences to craftsmen to manufacture and sell certain goods.
The Privy Seal of Scotland was last used in 1898 but the Great Seal of Scotland continues to be used by the present monarch as an authoritative 'seal of approval' on important documents such as new acts passed by the Scottish Parliament.